Back in December, Peter was amazing and took the girls to the Library on Gingerbread House day. Truly, he is Super Dad because he willfully walked into a room filled with candy and frosting and dozens of hyper children all so I wouldn't have to face the whining of my offspring claiming that they're the ONLY ONES in the history of the world who don't get to (1) do Elf on the Shelf and (2) Make Gingerbread houses.
On this particular day, Santa was also at the Library, and Peter asked the girls if they'd like to sit on Santa's lap.
Kate had no problem popping a squat and shooting the breeze.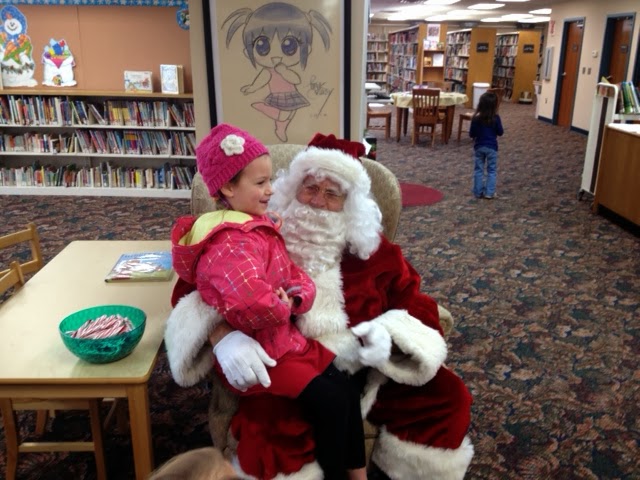 But Eliza was another story. There was no way she was going to willfully go to a stranger, especially one with a fake beard. Peter told me she backed away slowly, flatly refusing.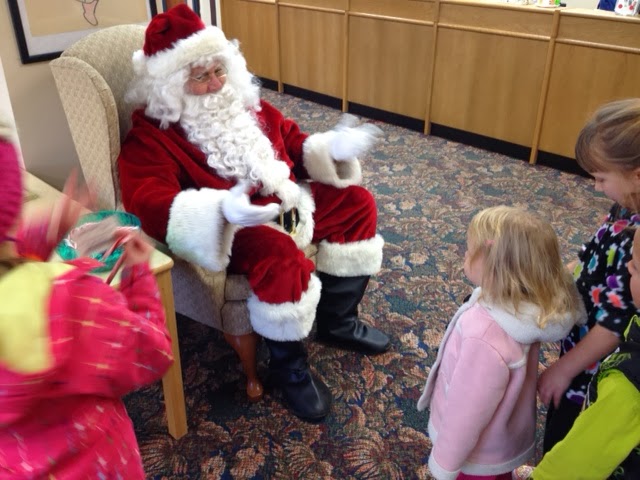 Until.
Kate offered to sit between her and Santa. And then she was happy.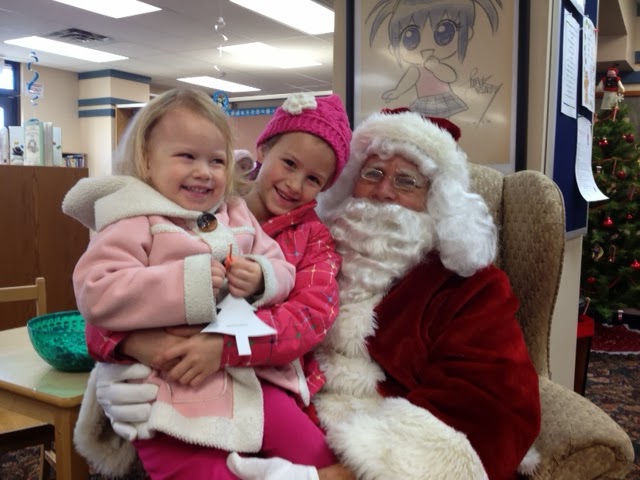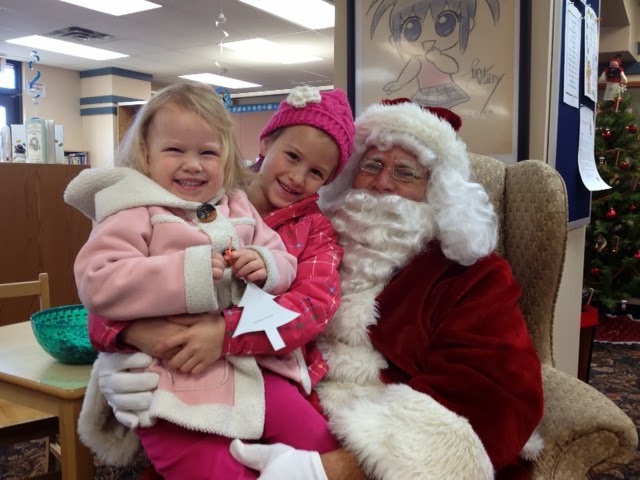 Our family has been memorizing bits of John (
here's where I got the idea
), and we flew through 1:1 and 1:5, but when we got to 1:14, we started having trouble getting the flow of the words.
"The word became flesh and dwelt among us and we have seen His glory,
glory as of the only son from the Father, full of grace and truth."
He is Emmanuel, God with us. He dwells among us.
It's what the angel said to Mary in Luke 1:28:
"Greetings, you who are highly favored! The Lord is with you."
At a time in her life when she needed it most, Mary received a promise that God would be with her. As each day passed and her belly got rounder and the rumors got bigger, as she wrapped her baby in rags and caught her breath, as she watched her Son suffer death . . . I wonder how often during her lifetime she pondered the words of the Angel that first night.
The Lord is with you. He dwells among us.
None of us escapes those phone calls, those moments that tears come quick and we find ourselves shaking our heads. The memories that make your knees weak with fear and you beg night to come so that you can pull the covers up and slip into darkness . . . that is, if sleep comes and the nightmares stay away.
Scripture says that God is a God of all comfort, who promises to be by our side, to come between us and our situation, and who comforts us in our trials. Much like Kate crawled between Santa and Eliza, so God is with you in whatever you are facing right now.
His promise to Mary is a promise to you. He dwells among you.
Here's the deal, when you understand that the God of the universe, the All-knowing, All-powerful, Ever-present God is with you…that changes everything.
When you are lost and don't know where to go, He is with you as your guide.
When you're hurting and feel alone, He is with you as your friend.
When you're in the middle of a trial, our God is with you as your comforter.
If you're ever sick, our God is with you as your healer.
Whenever you're weak, our God is with you as your strength.
Anytime you're lost in your sin, our God is with you as your Savior.
I think the reason I'm having a hard time with John 1:14 is simply because I find it almost unbelievable that God chooses to dwell among us. I look at this earth, I look at my life and I wonder where God is. I can easily list a half dozen huge, heartbreaking things that those close to me are experiencing right now. It keeps me up at night and overwhelms my heart. And I wonder, "God, where are you?"
Today He whispered to me, "Look back". Tears are in my eyes as I see the ways He has been with me. Little moments that seemed insignificant at the time. Big moments of trust. Hard times and good times. Times alone and times in rooms filled with thousands of people. It's true. He has dwelt in me. His fingerprints are all over my life and I am in awe.
When we open our heart to God, we realize that the hard times in our life will still be there, but no longer are we alone. He comes alongside us.
He is with you.
** I can't take all the credit for this. Most of this was taken from a sermon Peter preached a few weeks ago, and I haven't been able to shake it since then. I love my preacher-husband. (Also, the pics are his, too. )