I'm a planner.
I like to have things ready, well ahead of time.
So I knew that the time was approaching when I'd have to go through the sweet baby clothes to get them ready for our new girl.
It's a task that brought me so much joy in the weeks leading up to Annie's birth. I remember getting all of Kate's clothes out and thinking about how little she was and how sweet she looked in all of them.
This time, it's a little different.
Annie's clothes still hang in the closet. They still take up residence in the dresser.
I haven't had the strength to put them away.
Clothes she wore when she was so sick and I was praying harder than I've ever prayed in my life.
There's still a basket in my closet . . . the last load of her laundry.
Clothes that faintly smell of her skin, that bring back memories too hard to put real words to.
I know they're only physical reminders of her. Her soul is with Jesus, which is the most important thing.
But I loved that little body. I loved knowing her tickle spots and rubbing lotion on her little knees. I loved finding little bits of rice cereal in the pudgy folds of her neck. I loved knowing what outfits would bring out the blue in her eyes and seeing her hair poke out all over after I gave her a bath, wrapped tightly in the towel that says, "I love Daddy".
But it's time.
Time to take out her clothes and replace them with her newborn clothes for her sister.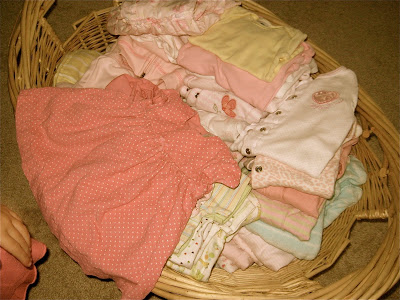 Can I just pause to say that God is so good? He is. He IS.
He has turned the dread of this job to joy. It's unexplainable.
Oh, it's still difficult to touch, feel and remember.
But it's one of the few physical links that this babe will have in common with her sister.
There will be no pictures together.
They will never touch skin.
They will never giggle together in the room they would have shared with Kate.
But they have clothes.
And someday when I'm showing this New One pictures, I can say, "Annie wore this, just like you did. You would've been the best of friends."