Peter and I just returned from Ecuador with Compassion International. Catch all my blog posts here.
I knew that Jefferson had a birthday– his 18th, nonetheless– coming up in September. So while I was getting a backpack of gifts ready for him, I tossed in some napkins and candles for him to have a celebration.
The day before we were able to meet him, a few people on our team asked if we would be able to make a pit stop at the grocery store to buy a few staples for our families. "Peter!" I said, "Let's get Jefferson a cake mix for his birthday!"
So as we were wandering the store, tossing rice and tuna and black beans into our cart, we looked for a cake mix. But then we wondered if he had a stove. Or a pan. Or eggs to add.
That's when one of our amazing translators suggested that we just buy a cake and have a party with him. Awesome. We bought a cake in the bakery and added some plates and party decorations from his favorite soccer team (
Barcelona
).
And the next day we celebrated his 18th birthday.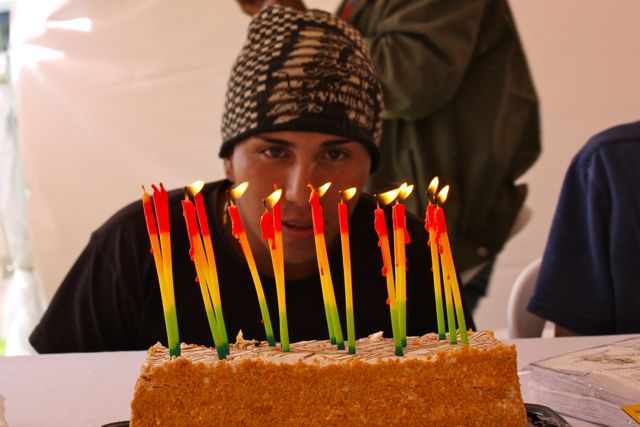 It was so fun. So, so fun.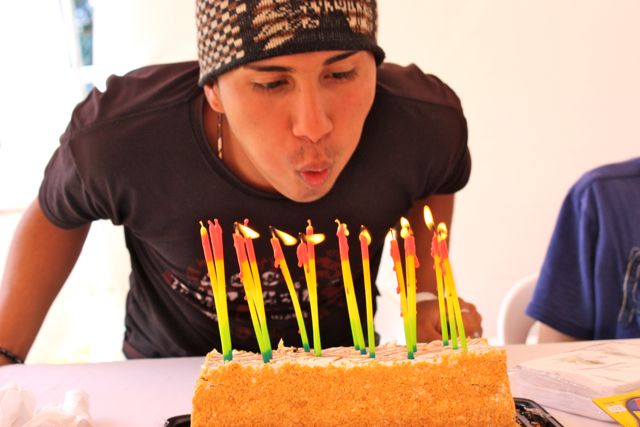 We laughed as he tried to blow out the candles and he blamed his lack of air on the altitude of Quito (well, it is 10,000 ft). We gave him his gifts and had a pretty frank talk about the responsibility of turning 18 and what he wants to do with his life (he wants to go to college and study computers).
We asked him about his life at home.
You know how dire the circumstances are when your 20 year old translator starts crying.
Juan told us that Jefferson's father has been diagnosed with Parkinson's at age 53. Because he cannot work, they have very little money coming in. In fact, their only income right now comes from collecting plastic bottles and redeeming them for a few pennies each.
There is a lot of gang activity in Jefferson's town. Often he sees people lying on the side of the road, dead from a gun shot. He faces huge pressure to throw away his life and join the gangs.
We talked to Angel, his youth pastor, about the hard work they are doing in his town and the challenges they face to reach the young people. We prayed together and I couldn't help but feel so very helpless.
In spite of that (and maybe because of it), we later enjoyed (of course) a soccer game. We so wanted our day together to be full of joy for Jefferson and his mom– a day they would always remember.
I have a few observations on the following photo: (1) There are no children bouncing in the bounce house. They are merely using it as a chair to watch the game– does this tell you how important soccer is!? (2) There were three characters on the bounce house: Spongebob, Spiderman, and Woody Woodpecker (random, yes?) and (3) Look at how close we were to the clouds! The altitude of Quito is mucho high (oh! Did you notice how I snuck that Spanish in? Pretty impressive, I know).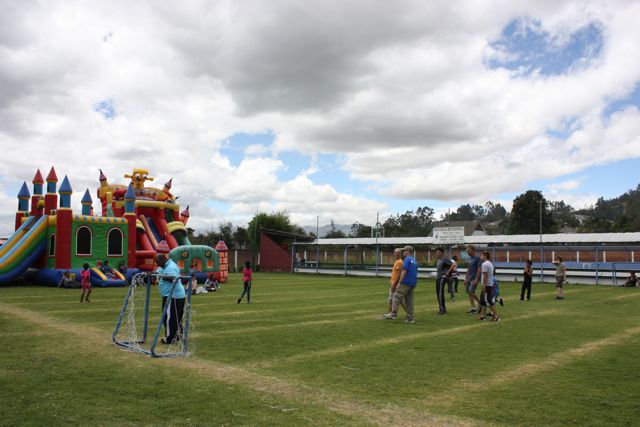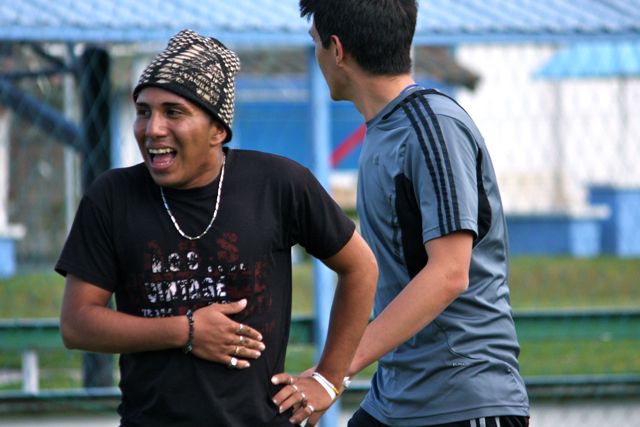 I had so much fun watching all these people from all over Ecuador and the United States play and laugh together. I sat with Jefferson's Mom on the sidelines and we had a great time enjoying the game.
That's Juan, our translator for the day, in the picture below. He rocked. Taught himself English when his dad bought him a Playstation and he wanted to figure out what they were saying. He's now in University studying Computer Animation.
Peter got schooled by this little kid (and that kid was pretty happy about it! ha!) . . .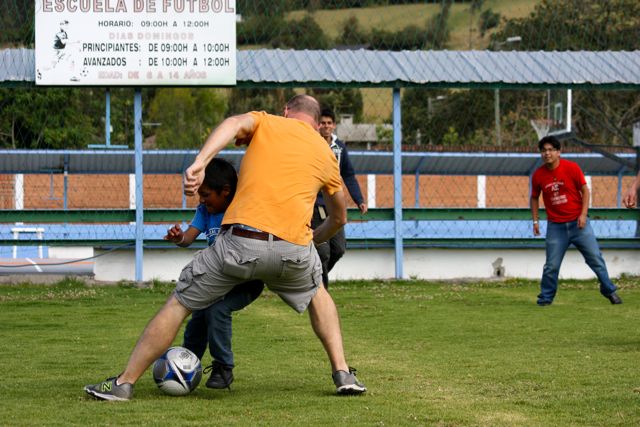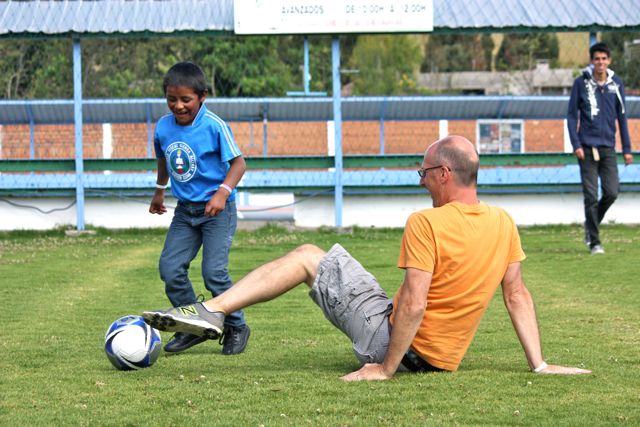 And we got a kick out of how cold these people were, even in the beautiful 70* weather. This man played the whole game with his huge winter coat on. He wasn't half bad either . . .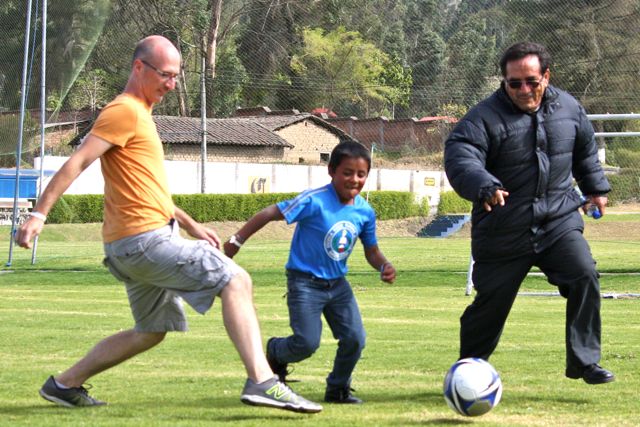 My favorite part of the day? A few of our leaders worked really, really hard to make it possible for us to video chat with our kids. It only lasted a few minutes and I have no pictures, but it was amazing. I cannot tell you how important it was for William and Kate to see and talk to Jefferson. As I hugged Jefferson good-bye at the end of the day, he said to me, "Say hello to my fan club." He nailed it. They love him so much and still haven't stopped talking about those brief minutes.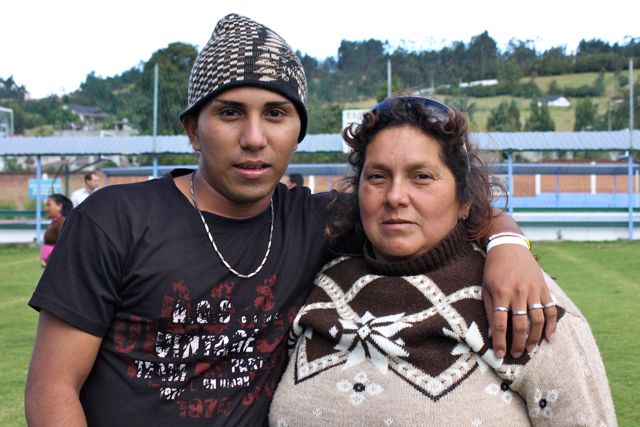 At the end of the day, Jefferson told us that he still has every single one of the letters and pictures we have sent him over the years. He remembered the date of Annie's death and they told us they pray for us each year. His favorite picture, though, was one that we had sent him when we were all making goofy faces. So what choice did we have?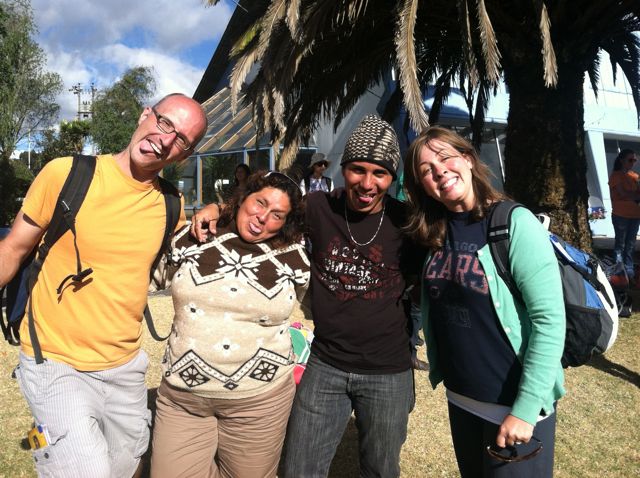 I am in awe that God gave us this amazing opportunity. Seeing their faces and hearing their words made me sad and helpless. It's so easy to downplay the poverty and violence in our world. And it's equally hard to know what to do when the reality is placed in your lap.
What do you do when poverty is no longer a mere topic of conversation, but instead has a real face . . . a name . . . a soul?