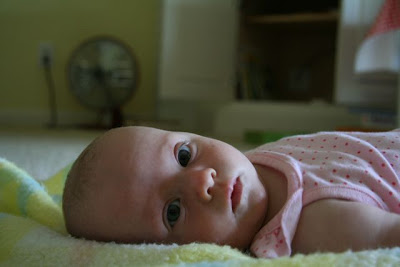 Annie is almost 5 months . . . and fifteen pounds. Yikes! What a little chunker. And yet, she is the smallest of my three babies at this age. We especially love her little rolls on her legs (or yammers, as we call them). She could not be sweeter.
You know, William had his thumb.
Kate had her pacifier.
It seems that Annie wants both.
Oh. my.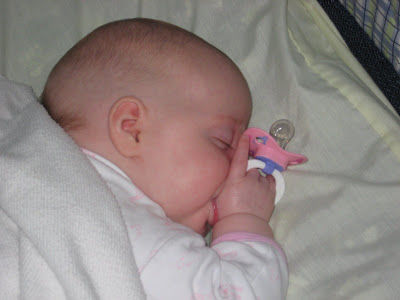 She has been interrupting her long naps lately by her new skill of rolling over. And we'll find our sweet thing on her back, kicking her legs and talking to the bears that hang above her bed. Not crying or upset. Just happy. Always happy.
Annie has been expanding her taste buds with Rice Cereal. She seems to like it as much as one could love rice cereal. I got out my trusty baby food book the other day and re-read all the food-stained, dog-eared pages. Soon we'll start on bananas and avacado!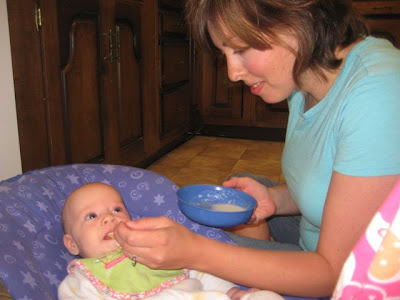 Since our very favorite babysitter is home for the summer, Peter and I pack up Annie and leave the kids for a date every once in a while. And Annie hates it. She just can't handle being without her siblings. Each time we get in the car, she screams her little lungs out. She wants to see them and hear them. I know this because we were driving in the dark one night and she started crying. I told William to turn on the light above him so Annie could see him and when he did, she immediately stopped crying. Insane.
I love rocking her to sleep. She has to hold my fingers with both hands and her eyelids slowly droop. Then she'll open her eyes suddenly, just to give me a sleepy smile and then drift off again.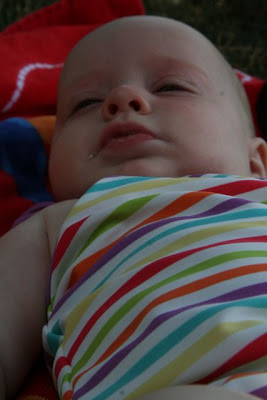 Tonight she discovered that she could kick, kick, kick in her bath. I watched her serious face while she tried to make a big splash and it took me back to another sweet babe kicking while he took his bath almost five years ago. sigh. It flies by entirely too fast.