Remember this?
For Kate's birthday, Uncle A decided to make a notebook for Miss Kate. Kate was so excited and has been busily filling it up. I need to send it back to Uncle A, but wanted to share Kate's story first.
"Once upon a time Snow White went to the wicked Queen's castle. Snow White fell on the ground when she ate the poison apple. The Dwarves said, 'Hi-Ho, it's off to work we go.' The seven Dwarves were scared. Dopey sneaked into there. Snow White was awake. The prince sang for Snow White and kissed her and then she woke up. She said, 'And you must be Grumpy.'"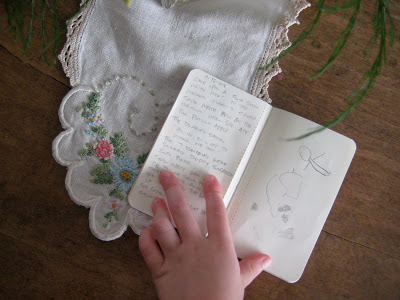 Hmmm . . . for some reason, I don't know if that response to MY Prince Charming would've resulted in a "Happily Ever After". . . but whatever.
🙂