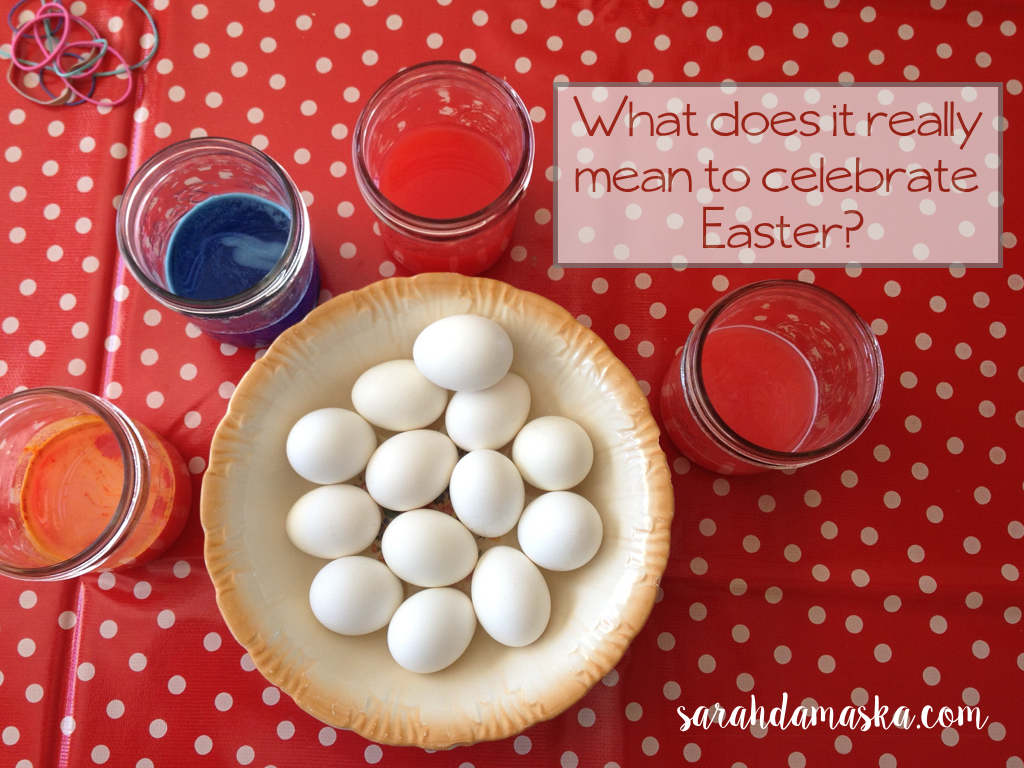 As a kid, Easter was my favorite.  It promised a new dress and tights (and maybe a hat, too!).  It meant that we would hurry out of church to my Grandparent's house for lunch and an Easter Egg hunt. My Grandma would buy Reese's peanut butter cups shaped like an egg and she would use a piece of white medical tape with our name to label each one.  She would hide one for everyone all over the yard and we would scramble when Grandpa hollered, "GO!" hoping we would be the first to find ours.  Inevitably, several of us cousins wouldn't be able to find our egg and we would go back to Grandma and beg for her help.  The problem was, she never remembered where they were.  Every year it would happen.
Finally, one year she made a list of where all the eggs were hidden and hid it on the kitchen counter, probably somewhere between the sweet corn and jello salad.  The problem was, my Uncle Jerry secretly found the list and before the hunt even began, we all knew exactly where our eggs were hidden.  I was just a little kid, but I still remember it so clearly.  When Grandpa yelled, "GO!" we all walked straight to our hidden eggs.  It completely baffled her. I don't know if we ever told her.  Haha.
So the next year, she thought she'd really get us.  Instead of just writing our names on the white medical tape, she wrote our names backwards on white medical tape. Tri-cky.  I'm grinning so big right now, remembering these memories.  My grandparents were the best.
(It should also be noted that for years my parents convinced me that those Reese's eggs from Grandma tasted terrible.  I could never figure out how they disappeared so quickly and what was so bad about them.  But I've got kids of my own now.  I know exactly where those eggs went.)
Easter's a great family time.  It's sweet and springy and it's exactly what we need to usher in a new season.  I loved going to church on Easter because Jesus rose! He had conquered death and we were going to eat deviled eggs at lunch to prove it.
But something happened when I went to college.  Peter started working in a liturgical denomination, one where we recited the Apostle's Creed and the Lord's Prayer every week.  We had a Prayer of Confession and sang the Gloria Patri after the offering.  All of it was new to me as an evangelical girl… and I was surprised that I liked it.  I liked the rhythm of the Lectionary and the predictable seasons of the church.  Suddenly Easter was not just a day that Jesus rose from the dead and we ate ham and date pudding— it was a season.  Ash Wednesday.  Lent.  Palm Sunday.  Holy Week.  Maundy Thursday. Good Friday. Easter Sunday.
When I was able to walk through the 40 days, anticipating the death and resurrection of Christ, everything came alive for me.  Even though we left that particular church many years ago, they planted roots in my faith that have grown deep.  As we've had kids, we've been intentional about teaching them what Lent is all about.  We light the candles and read the story after dinner.  We study the famous pictures depicting Jesus' death and resurrection.  We have a Seder meal on the night that Jesus would have celebrated Passover with His disciples.
But this year.  This year, we've been struggling to keep up with the traditions.  I'm not sure what it is, but we just can't seem to get it to stick.  We keep forgetting to light the candles.  We read our Bibles together for a few days, but then we forget.  I even scrambled to put together our Seder meal, juggling around two meetings and a Baseball practice.
So I've been feeling pretty empty lately.  Unprepared for Easter.  Too busy to really focus very long on the cross.
Today I sat at the table, looking out the window for a long time.  I had a million other things I should have been doing, but there was something about the quiet of the afternoon that stirred my heart. I read some familiar words in my Bible, but I let it wash over me in a new way.
Jesus entered the city on a donkey.  The people were sure He was the king they had been longing for and they spread their coats and palm branches on the road as he came closer. And yet,
"As He approached Jerusalem and saw the city, He wept over it…"
(Luke 19:41)
He wept.  For a people who refused to take the peace handed to them.  For a people He loved, in spite of the fact that they would kill Him in just a few days.
And just like that I was reminded of the way we also are loved to the very end.  How He weeps for us when we're wandering far from Him.  How He longs for us with a love we don't deserve. Jesus weeps over our souls.
We've talked about tears here in this space before.  We can read lots about tears in the Bible, and we can only imagine the numbers of people who were brought to tears by what Jesus did for them. But now, at the very moment He should have been feeling the most triumphant, He weeps.
N.T. Wright says,
"Jesus' tears are at the core of the Christian gospel.  This was not a moment of regrettable weakness, something a real Messiah ought to have avoided…. It is an essential part of Jesus' message of warning and judgment that it is uttered, finally, through sobs and tears." 
He weeps.
For me. For you.
…As we live in the shadow of a sin we just can't believe He'd forgive.
…As we stumble again, too tired to fight anymore.
…As we pound our fists in frustration, the anger bubbling to the surface faster than we know it should.
…As we look at the sunset and hear His voice whispering to us, yet we talk ourselves out of it and move on.
…As we fall into bed, determined to do better tomorrow, because surely God expects more of us.
…As our words tumble out, sharp and unnecessary and we wish we could just pretend it  never happened.
He weeps. He loves to the end. He forgives over and over when we ask. Let it wash over you.
The Lamb on the Throne will shepherd them, will lead them to spring waters of Life. And God will wipe every last tear from their eyes."
(Revelation 7:17, The Message)
Don't you see?  Because Jesus wept over us, He is able to wipe our tears.  Jesus, the Man of Sorrows, gave His life to give us life.
As Jesus wept that day, approaching Jerusalem, he says, "If you, even you, had only known on this day what would bring peace— but now it is hidden from your eyes." (Luke 19:42)
I have lots of great Easter memories that I treasure.  Today I even bought the Reese's eggs for us to hide on Sunday.  But I refuse to buy the lie that the cuteness of this season is what will bring me peace.  I need Jesus.  I need Him to weep over me.  I need His forgiveness and His love to the end… a Shepherd, to lead me to Life.
May you, today, know deep in your soul the way Jesus weeps over you.  May you have the courage to stop and listen to His voice, to ask His forgiveness, to allow Him to wipe away your tears.  He loves you so.