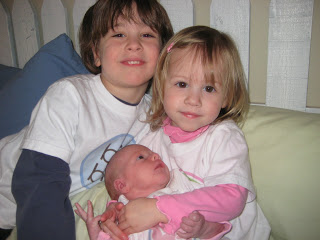 Annie had a big weekend. Not only was yesterday (Monday) her three week birthday, Saturday was her due date! It seems bizarre to think I could just have a brand new newborn . . . it's already going too fast!
Annie continues to be an amazing baby. She sleeps well and eats well, she doesn't have a "fussy time", and she patiently tolerates all kinds of prodding and noisiness and holding. Sometimes when we hear her squeak from her bed Peter and I look at each other and I'll say, "Did you remember we have a baby!?"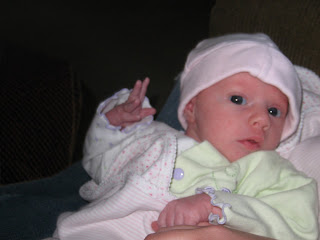 For only being three weeks old, she's certainly had her share of experiences so far. She's been to Detroit twice. Last Friday we took her down to the City where Rob Bell began his
"Drops Like Stars"
speaking tour. She was a rock star. Granted, she let out her loudest cry ever while he was talking about AIDS in Africa and it distracted most everyone there, but at least it was in the last 10 minutes of his 90 minute talk (all without a note, I might add). At Bible Study last night, I also realized that Annie has been to 3 Bible studies so far in her little life. We're getting her started young! She's done great at all of them, which is pretty important, since I've taught two of them.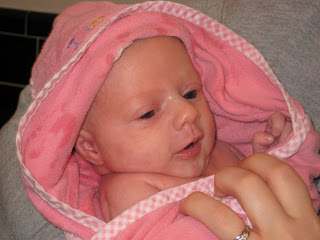 She's still quite little. Even some of the "newborn" sized clothing still doesn't fit her, but she's growing and filling out. Her belly button fell off a few days ago and she's had a few real baths now. She's tolerated them quite well for the amount of excitement they've generated from her siblings. Annie's getting much better at making eye contact with us and has even given us a few smiles (whether they're "real" or not is still yet to be determined. But we like them anyway.)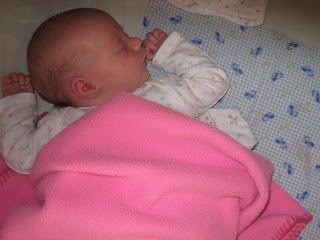 Annie is a pro at squirting out the poop as I change her diaper. I especially enjoyed her "sneeze and squirt" routine the other night at 2 am. It was unfortunate that it woke up the Sleeping Giant (aka Peter) who has an uncanny ability to fall into a deep sleep when a newborn enters our house. He (Peter, that is) has redeemed himself over and over, though, with all his help lately, so I'm not complaining. He even dusted for me yesterday! But I digress. . . .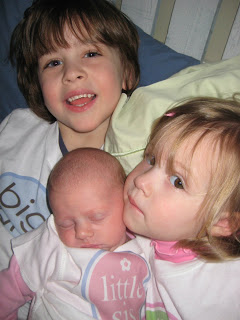 Happy 3 Weeks, Annie Jane! You are loved!