So today is my birthday.
I've graced this earth for an entire thirty years. Hard to believe.
About a year ago I sensed God wanted to do something big in my life. Something that would change my life and would deepen my walk with Him. I found myself preparing, without knowing what it would be.
I remember sitting in the little conference room at the hospital on September 22. It was the day we told William and Kate that Annie was going to die. I remember William's sobs as he said, "It can't be true." And deep in my soul, I begged that it wouldn't be. "It can't be true, Lord. This, this, is the 'Something Big'?!"
And so today I turn thirty.
"You keep track of all my sorrows. You have collected all my tears in your bottle. You have recorded each one in your book."
Psalm 56:8
I've never had a birthday quite like this. I was thinking about how incredibly, insanely changed my life is today as I was changing the sheets on the kids' bed. A normal thing I do each week. I cleaned out the dishwasher. Folded a few loads of laundry. Colored and read with the kids. Sent them to their rooms a few times. A new Annie-less routine.
Oh, what I would give to have a birthday, filled with the extra monotony of my life a few months ago. An extra sheet to change. Bottles and baby spoons in the dishwasher. An extra pile of laundry. Little chubby hands reaching out for the book as I read, my lap too small to hold all three.
"I am dying from grief; my years are shortened by sadness. Misery has drained my strength; I am wasting away from within. But I am trusting You, O Lord, saying, 'You are my God!' My future is in your hands."
Psalm 31:10, 14-15
I was in town this morning, working out. A few other ladies were there and they were talking. One remembered it was my birthday and asked how old I was. I told her. Another lady, one I'd never met, responded, "Oh, I was knee deep in babies then. Those were the best years of my life."
I felt like she had punched me in the stomach. It was no fault of hers, of course. But it brought my reality front and center. I doubt that I'll look back on this time as my best years. Sometimes I think I'm mourning the death of that dream in the midst of mourning my Annie. Instead of enjoying being a mom, I'm trying to figure out just how to take care of a grave site, reading books on grieving children, watering plants from a funeral instead of baby-proofing a house. I'm ordering a stocking that will always be empty and staring at sweet tiny clothes that still hang in the closet.
"You saw me before I was born. Every day of my life was recorded in your book. Every moment was laid out before a single day had passed. How precious are your thoughts about me, O God!"
Psalm 139:16-17
I was talking to the kids the other day. I was telling them that we need to choose to trust God with our family. We've been entrusted to travel a road that is not easy or fun. But we cannot fear what He has in store for us. William and Kate have great potential as they allow the death of their sister to shape their lives. I was saying all of this more for my benefit than theirs. I knew it was a little over their five and three year old heads.
That is, until William piped up. He told me about a book we have . . . "The Berenstain Bears Get Stage Fright". (For the record, Peter and I groan when they pull out those books. They're so l-o-n-g! We try to keep them at Nanna's but she mysteriously keeps sending them home with us.) Anyway, he said, "Remember when Sister was scared of getting up on stage? Mama told her some things in life you can't practice . . . you've just got to do them."
Over and over I've thought of that with tears streaming down my face. God has been preparing me, and I'd sensed it over the last year. It doesn't make it any easier. It doesn't take away the pain. But God will see us through. He is faithful.
"God has made everything beautiful for its own time. He has planted eternity in the human heart, but even so, people cannot see the whole scope of God's work from beginning to end."
Ecclesiastes 3:11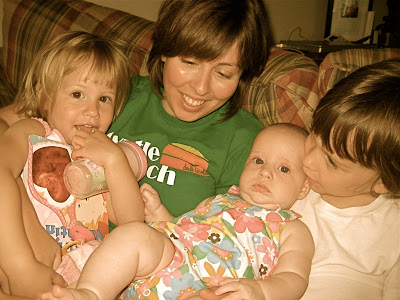 P.S. As I recounted the "Stage Fright" story to Mom over the phone, she said, "You tell William he is wise beyond his years." So I told him. "What?!", he said, "I'm wise behind my ears?!"