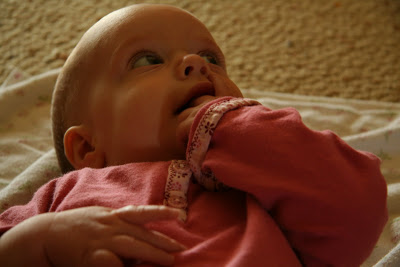 How can I even write the words I know I have to write? My life seems to be on a "permanent disconnect" right now. I'm sitting here, with "Clifford, the Big Red Dog" on the TV in the background, only to have William crawl up in my lap and ask, "Mom, can we go over to the cemetery?" to which I answer, "Whenever you want to go, I'll go with you."
We will visit the cemetery to see William's sweet sister.
My Annie Jane.
It was just last Saturday that we sat in the Emergency Room in Ann Arbor after being there only 10 minutes. With tears in her eyes, the Doctor said, "There is no easy way to say this. Your baby has a large mass on her brain." A tumor. My baby.
And so we said good-bye. We told her about Jesus and Heaven. We told her how much we loved her and remembered the things we had done with her in her six short months with us.
We grieve, oh yes we grieve. But we grieve with hope. Hope that she is safely in the arms of Jesus. Hope that Jesus will give us strength to endure each minute.
I'm not sure what direction my blog will take now. I guess I'll just see. Everything seems quite new and unknown now.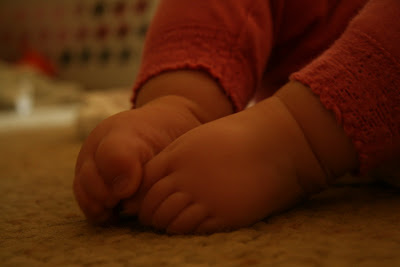 But I do know this: God is faithful and He is true. I will sing because His mercies are new every morning. I will praise Him for His goodness. I will cling to His promises like I have never clung before. He is my peacemaker, my fear taker, my storm-smoother. And I need Him like never before.