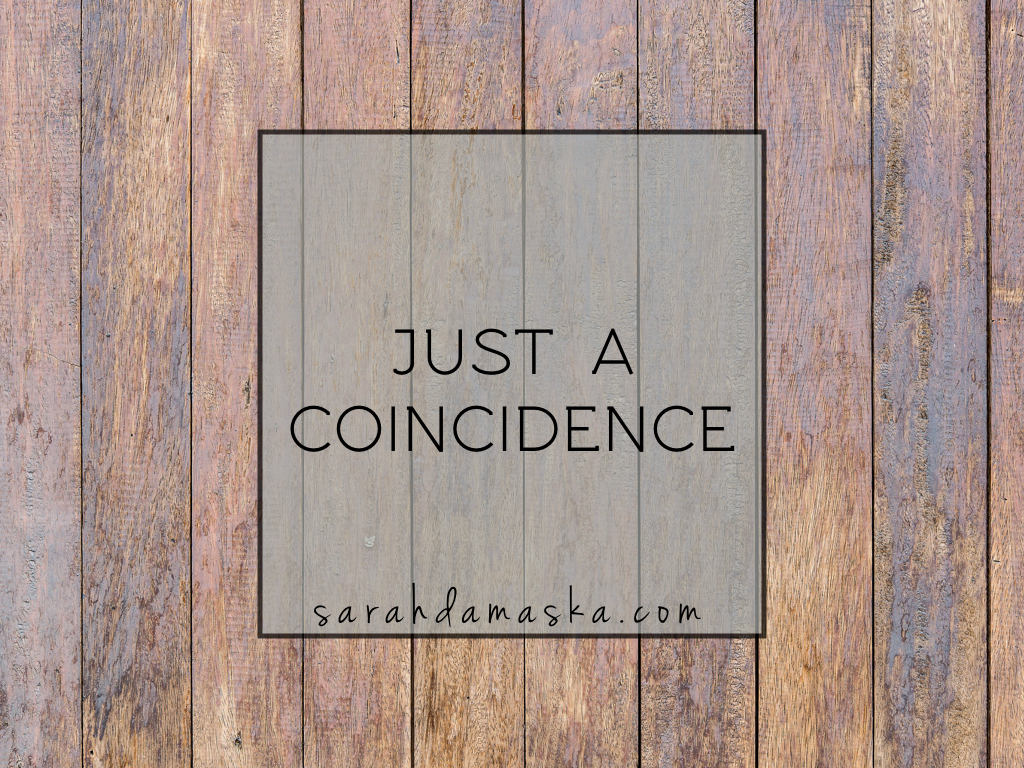 I passed up the good chocolate at the grocery store this week.  I'm not going to lie… it was a hard choice.  But my cart was full of too many essentials to justify my craving so I kept right on walking, even though there are plenty of ground breaking studies on how chocolate improves brain function and energy levels and godly parenting.
Imagine my surprise when a Valentine's Day box from my in-laws "for the kids" arrived the next day. Inside was a bag of my favorite dark chocolates…with MY name on it.  Literally.  My mother-in-law wrote it in sharpie.
It wasn't life changing or anything, but it was definitely a fun coincidence.
On a recent episode of "This American Life", they asked people to submit their best coincidence stories and after receiving over 1300, they decided they should do an entire show.
"Here's a definition of coincidence that seems right to me," said Sarah Koenig, the producer and narrator of the show. "Coincidence is a surprising occurrence of events, perceived as meaningfully related with no apparent causal connection.  It's that middle part— meaningfully related—  that people seem to get stuck on. Because when events line up just so, you can't help it.  You can't help but wonder if there's a message in that. In that way, coincidences are kind of like shortcuts to very big questions about fate, about God, even to people who don't believe in either one.  The notion that somewhere out there, someone or something is paying attention to your life– that there might be a plan conjured through coincidences."
So, friends, let's talk about that.  Because we do have questions— big, sad, loud, bold questions— about fate and God.  We wonder if things "happen for a reason" or if it's just by chance.  Would God really care about something as little as a bag of chocolates?  Or perhaps the better question would be, does God care enough about me to pay attention to the details of my life?
"Mostly what God does is love you.  Keep company with Him and learn a life of love.  Observe how Christ loved us.  His love was not cautious but extravagant.  He didn't love in order to get something from us but to give everything of himself to us.  Love like that," Paul says in Ephesians 5.  
What if circumstances we call coincidences are really just God showing up in our everyday lives— assuring us that He hasn't left us, that He cares for us?  What if, in his extravagant love, He knows you in the deepest ways, paying close attention and slipping in details we don't see coming?
What if?
There are small coincidences, like chocolates, but then there are big ones– big enough to cause a shift in your thinking, to change how you perceive life.  There's a Mandarin saying, "If there's no coincidence, there's no story." … so here is mine.
A few months ago, my son Will and I were in Haiti, getting ready to present a little Bible lesson to between 30-100 kids (they somehow multiply exponentially every 3 minutes).  We had animal masks and a painted rainbow, little coloring packets with stickers and an animal cracker snack.  We were going to teach them about Noah and the Ark.
My hesitation was that Hurricane Matthew had struck a few weeks prior, and though the area we visited wasn't devastated, there had been a lot of rain and flooding.  I had been to the little town of Nambien before— houses made of tree bark and corrugated metal with dirt floors.  Kids with no shoes who rubbed their bellies and asked for food.  Mamas who hold babies in their arms when the torrential rain starts to seep into their houses.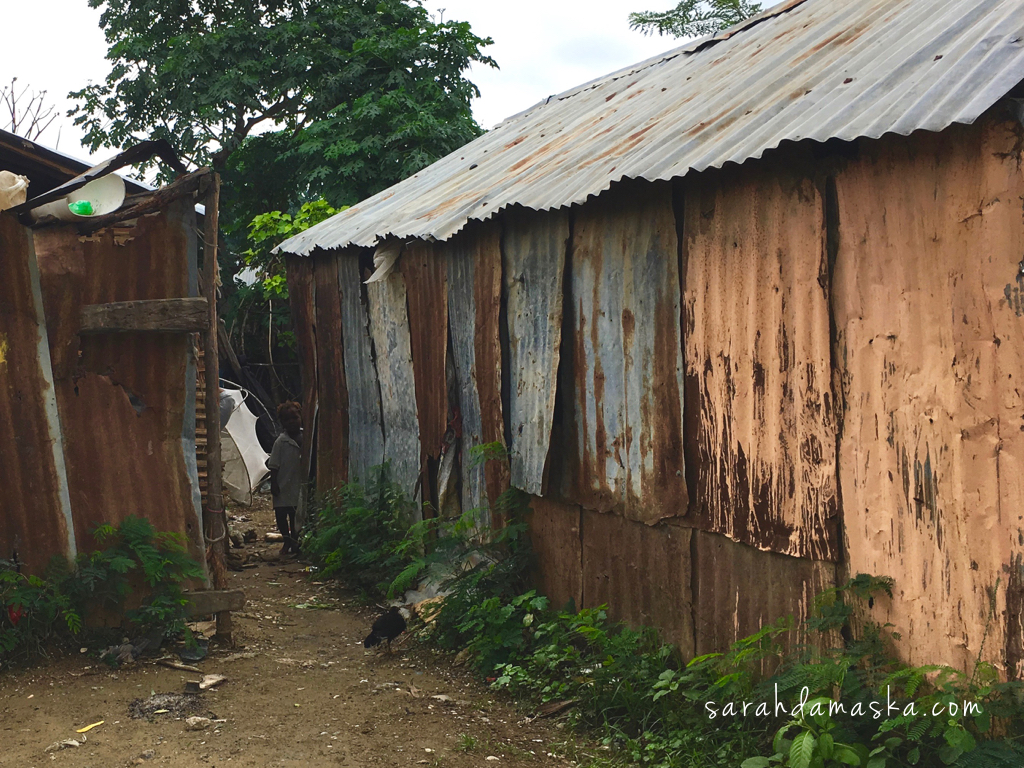 The story of Noah is about trust and obedience.  It's about a huge flood where Noah and his family (and 2 of every animal) were kept safe as the storm swirled around them for 40 days and 40 nights.  And it ends with a rainbow, a promise from God that He will never flood the earth again.  In America, we cute-ify the story.  We decorate nurseries with little animals, we buy plastic toys with squat little animals and a white haired man.  But in Haiti, it's different.
Telling the story of Noah and the flood seemed like the worst idea in the world.
The morning we were scheduled to go to Nambien, I sat at a little table overlooking the ocean, praying and going over my notes.  The rain was pounding against the tin roof as I read the words I would later speak over these children.  I was worried and unsure.
And that's when I looked up and saw a rainbow on the horizon.  A promise that God sees our lives and He cares.  A promise that His Word is always true and He can always be trusted. A few hours later, Will and I stood in the middle of the a sea of kids to teach them the story.  I can't tell you if it meant anything to the sweet kids that day… but I can tell you that God spoke to me so deeply in my soul.
How could I ever describe this as simply coincidence?
How often do we miss what God is up to in our lives by merely shrugging and saying, "What are the chances?"  How often is God trying to speak to our souls, and it barely catches our attention because we're too preoccupied and explain it away?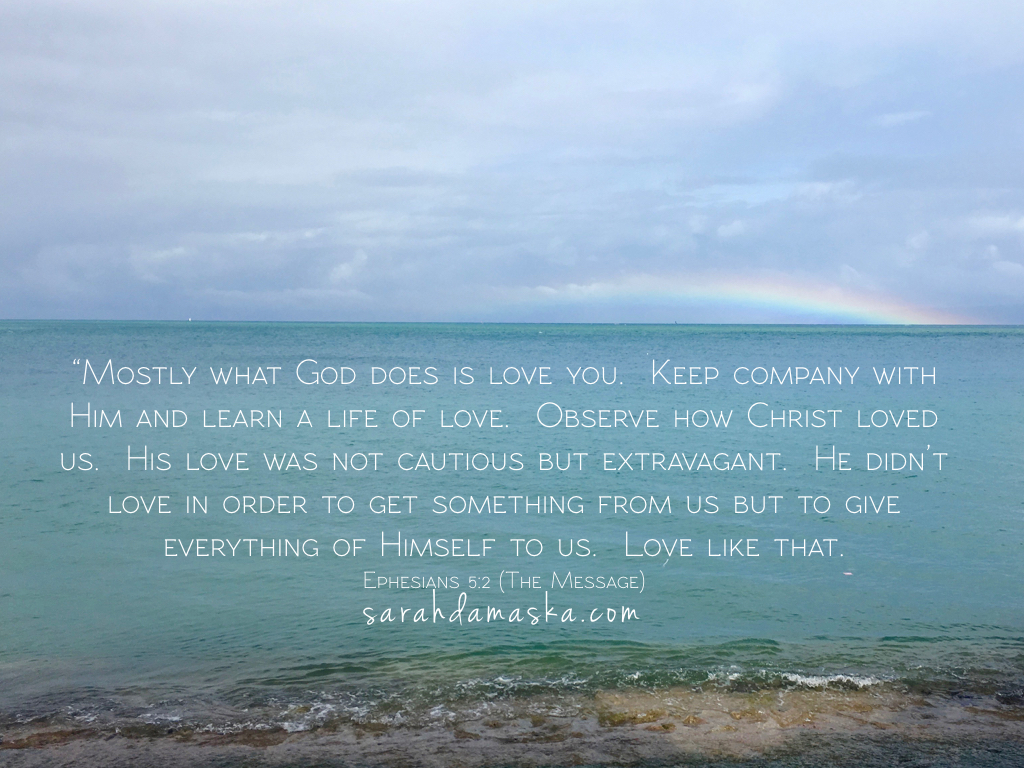 Have you ever had something that just keeps coming up?  Maybe it's a verse or a word or a circumstance that becomes a sort of theme for awhile?  We open our Bibles and there it is, we listen to the radio and the song is about it, we sit and have a conversation and it keeps coming up.  It's not coincidence.  It's God.  And if we're brave enough to sit with it for awhile, we find that He is works through coincidences in order to teach us and bring us into a deeper relationship with Him.
My friend, in her car alone, with tears streaming down her face, had spoken audibly to God for the first time. "I'm done.  I can't do it on my own anymore.  I trust You."  She walked into our small group just a few hours later, her heart shattered into a million pieces, so vulnerable and tender.  She opened up the study book and saw the word TRUST in big, bold letters across the page.  The very thing she had said to God, the very thing she was struggling with the most.  And in that moment, she discovered the way that God loves us.  Extravagantly.  Knitting the circumstances of our lives together in such a way that we would be crazy not to see how intimately He cares for us.
Today, may you quit trying to explain away your coincidences.  May you dare to notice the ways that God is weaving the details of your life, speaking to you through his extravagant love.  May you see the ways He is active in your everyday lives, choosing to enter into your ordinary, sacred moments.  Pay attention and acknowledge the creative ways that He chooses to enter into your days.  There's beauty in noticing it all.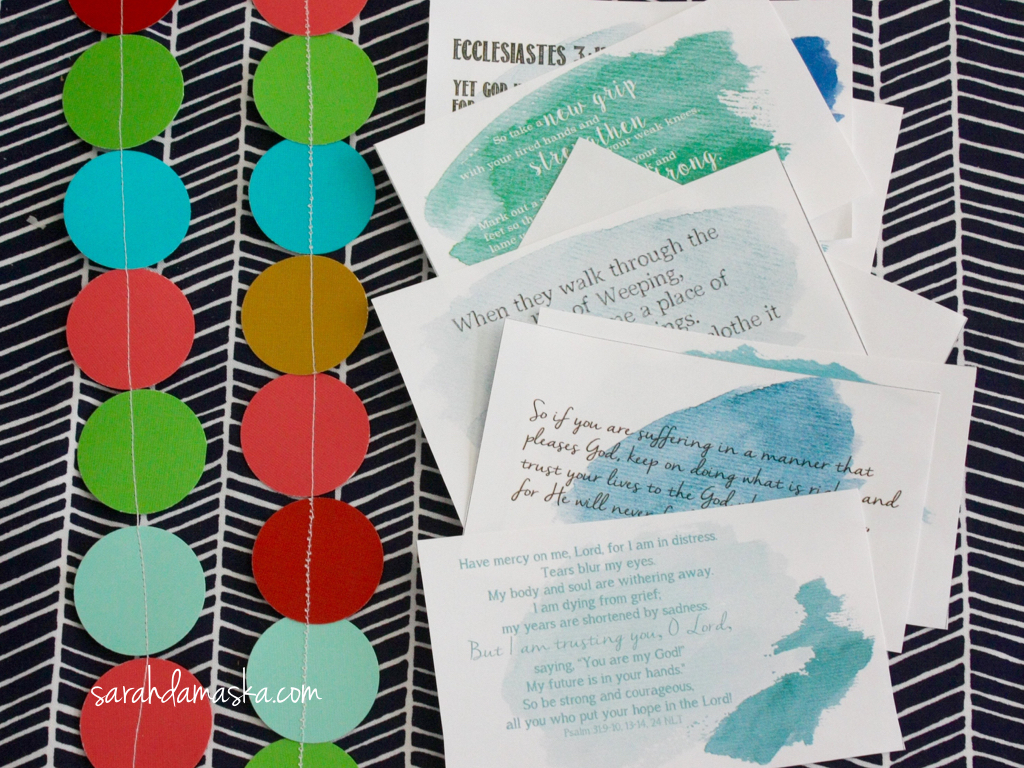 Hello.
I'm so glad you found your way to this little space.  Wherever you find yourself today, I'm praying that my words will bring you hope.
Want to read posts via email?  When you subscribe to this blog, you'll automatically receive a sweet printable with eight of my favorite verses of Scripture.  I'm cheering for you, friend.