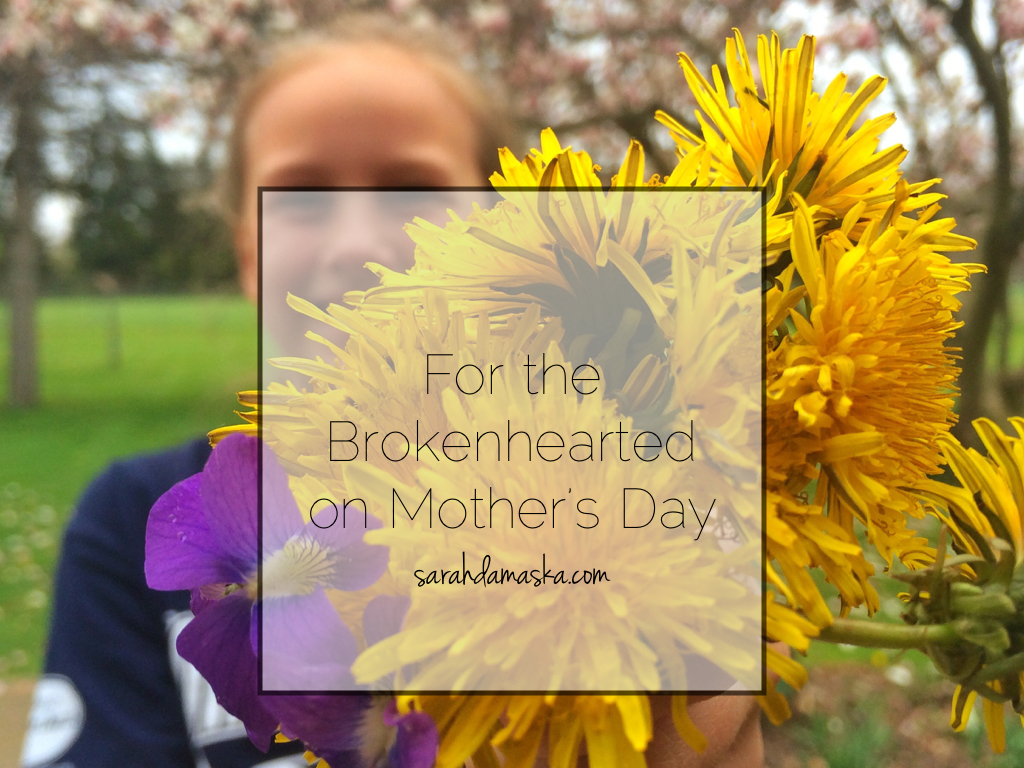 Last week I bought a few cards and I let my kids use my sharpies to write a little note to their Grandmas.  One of the hard things about living far away from family is when these small holidays roll around.  We are too far away to make plans to be together, so we send packages and FaceTime lots and make the best of it.  (Also, full disclosure: the cards didn't get sent until Thursday.  Late.  I'm always late)
I use the term "hard" loosely, because I am well aware of the number of people in my life who'd rather just skip Mother's Day…. By falling asleep on Saturday night and waking up on Monday morning.  Erase the whole thing.
Sometimes holidays like Mother's day are salt in the wounds and the anticipation of a day celebrating Moms brings up pain and hurt.
Maybe you lost your Mom and when you mindlessly reach for your phone to call her, you realize afresh that she is gone.
Maybe you always wanted to be a Mom, but for any number of reasons, you sit with empty arms.
Maybe the relationship you always longed for with your Mom never materialized and you're left with a lapful of painful encounters, hurtful words, and longing.
Or maybe, like me, Mother's day seems to be a reminder of what you've lost and all you see is the empty chair at the table.
What I do know is that as we live life and grow older, very few of us have the idyllic life we imagined we'd have.  We live with pain and sorrow, buried dreams and quiet hurts.  And while we do our best to push them down, there are days we wake up and realize that we need to come face to face with our sorrows.
There are days when we just want to sit at home and hurt.  And while the answer to healing may involve giving ourselves space, there's something I've been wrestling over for the past few days.
It's this little verse in the middle of Romans 12 and chances are you've heard it before.  Paul is telling the people how to live and in verse 15 he says,
"Rejoice with those who rejoice; mourn with those who mourn."
Here it is in a few different translations:
Be joyful with those who are joyful. Be sad with those who are sad. (NIrV)
Be happy with those who are happy, and weep with those who weep. (NLT)
Laugh with your happy friends when they're happy; share tears when they're down. (The Message)
It's a sad time in our church right now.  My husband has done three funerals in that many weeks. We mourn together.  We go to the funeral and we hug those who hurt.  We make casseroles and send cards.  We mourn with those who mourn. But that's only half of the verse.  
"When we are hurting, we like the part of the verse that tells people to 'weep with those who weep.' But we think we're exempt from the first part, 'Rejoice with those who rejoice.' Those of us who are sad find it difficult to be happy with others when they are happy, to enter into the joys of their lives.  It is painful and costly to celebrate the joys and successes of other people when we are weighed down by our own sorrows, losses, and failures— especially when their gain is exactly what we've lost.  The ugly truth is, while we don't think their happiness should keep them from sharing our sorrow, we see our sadness as an adequate excuse for refusing to enter into their joy." (Nancy Guthrie, One Year Book of Hope)
We who have broken hearts, or who have buried our idea of what we thought our life would be, need to be very careful to not let our sadness keep us from being joyful with others.
It's part of living in community with others.  While it may be difficult, we must acknowledge that all of life does not revolve around our sadness (and yes, I do realize just how hard that statement is to swallow).  God is doing good in the world, and part of our healing depends on our ability to be able to rejoice with others.
So how do we share joy with others on Mother's Day when our hearts are breaking?
Maybe you lost your Mom.  But maybe there is someone today who is celebrating their first Mother's Day, who has never had a Mother until some brave person said yes to adoption.  There's someone today who isn't an orphan.  And we must rejoice.
Maybe your arms are empty, your dreams of becoming a Mom dying within you.  Maybe a friend who has walked this same path with you has experienced the miracle you wanted for yourself.  It takes all the bravery and courage in you to be glad with them and it may be the hardest thing in the world to acknowledge their joy…. but it will mean the world to her if you do.  And when you cry alone later, may you know that God sees your tears and knows your deep pain.
Maybe the relationship you always longed for with your Mom never materialized and you're left with a lapful of longing.  But you have a chance to write a new story as you parent your child.  This is the heart of redemption— to take what you've been given and watch Jesus make it new.
Or maybe you're like me, reminded of what has been taken from you, tempted to be jealous of those who seem to have the perfect life.  But what if you dare to look outside your grief and rejoice?
We rejoice with others who rejoice… and we weep with those who weep.  Because the thing of it is, while we may be tempted to think we're the only ones with broken hearts, if we open our eyes, we will quickly see a world of hurt.  No matter your circumstance, you aren't the only one.  Chances are there's someone else who needs someone to weep with them.  What if instead of skipping the day, you make an effort to reach out to someone else experiencing the same thing?  To tell them you know just how they're feeling? Suddenly, in all the ugliness of grieving, you may find you have a purpose.  Jesus brings beauty out of our brokenness and He can use your hurt in ways you never imagined.  We just have to be the brave ones who take the first step of reaching out to others who are hurting.
I don't know your story, but I do know a God who can redeem your story.  He's done it for me.  No matter what, may you know today that you are loved and valued, that there is a God who sees your tears and knows your hurts. And you can be the person who reminds someone else of that truth.
So while I open my homemade cards and dandelion bouquets, all the while thinking of my sweet Annie in the arms of Jesus, I'll be praying for you.  That you will be able to see how God cares for your broken heart and you will have the courage to be happy with those who are happy, even as you weep with those who weep.
(Need more encouragement? Here are a few other posts on Mother's Day I've read this week from Lisa-Jo Baker, Ann Voskamp, and Shannan Martin)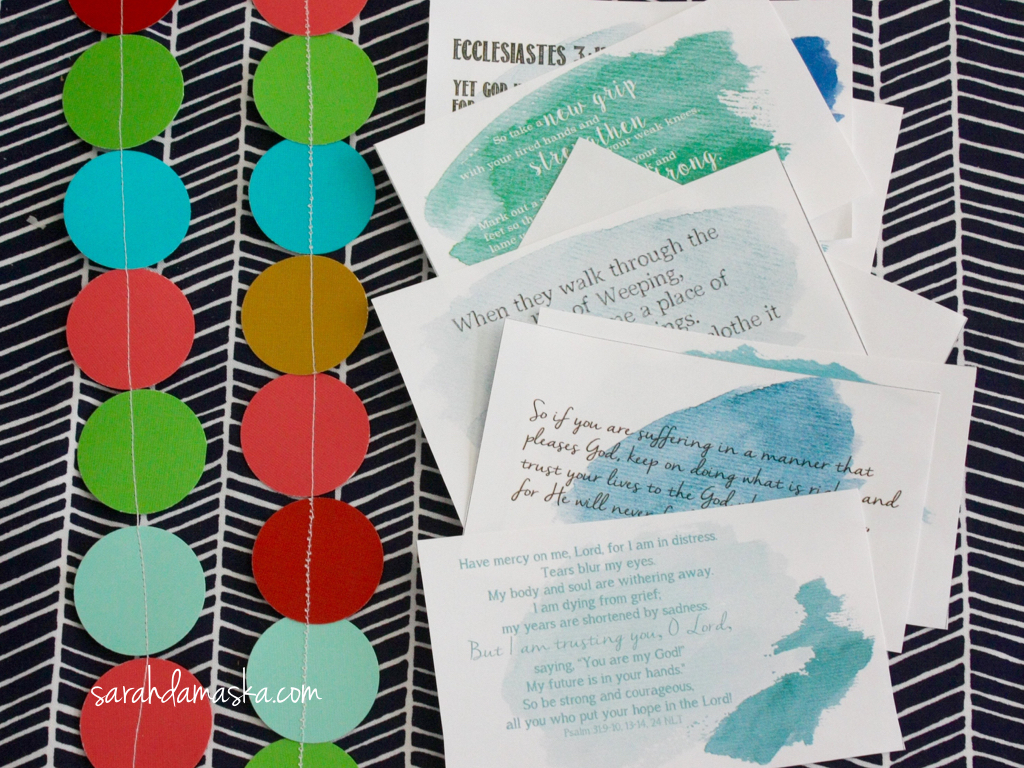 Well, hello!
I hope you'll stick around so we can get to know one another a little more.  Go here if you'd like to receive my posts via email.  I'd love to be able to pray for you and to send you a few verses that have meant so much to me.
–Sarah