Today I am thinking of my sweet Annie. She is never far from my mind, actually. I think of her a million times a day, from the moment I wake up to the moment I fall asleep and even during my dreams at night.
But today, as I often do, I'm thinking of her reality right now.
Some of you have seen these pictures of Annie, taken on August 5th, just a few weeks before we knew she was sick. She was five months old. I had just started putting her in her high chair and would give her little toys to keep her occupied. She loved it. We had always laughed at her during meal times because we would put her in her little bouncy seat and she would start crying every time. That is, until Daddy would take pity on her and put her on his lap. And then she would start laughing and smiling because she loved to be with us. She wanted to be at the table, not stuck on the floor in her seat! So, I got the high chair out.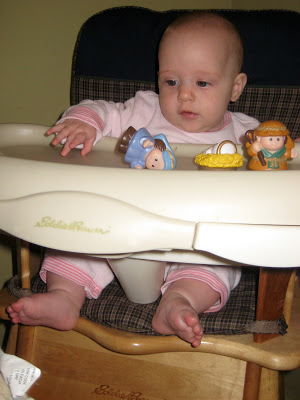 I'd snapped these pictures of her 'just because'. It wasn't until after she died that I took any notice of them. And then I realized how profound they were.
She doesn't need a little plastic baby Jesus any more. She has the real deal. She's not living in our temporary, broken, evil filled world. What a perfect picture of her 'then and now'.
"The day you die is better than the day you were born."
Ecclesiastes 7:1
Kate says, "Why would I be sad? Annie is with Jesus." And yet I am sad, and that's okay. But in the midst of this grief, I am choosing to take that string of hope and wrap myself in it. She is with Jesus. Not the cutesy, plastic, Fisher Price version. The real, living, powerful, eternal Father.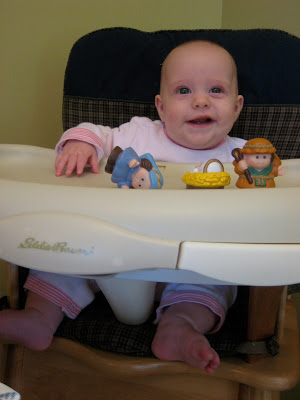 "We fix our eyes not on what is seen, but on what is unseen.
For what is seen is temporary, but what is unseen is eternal."
2 Corinthians 4:18
P.S. I miss those chubby kissable feet. They were my favorite.