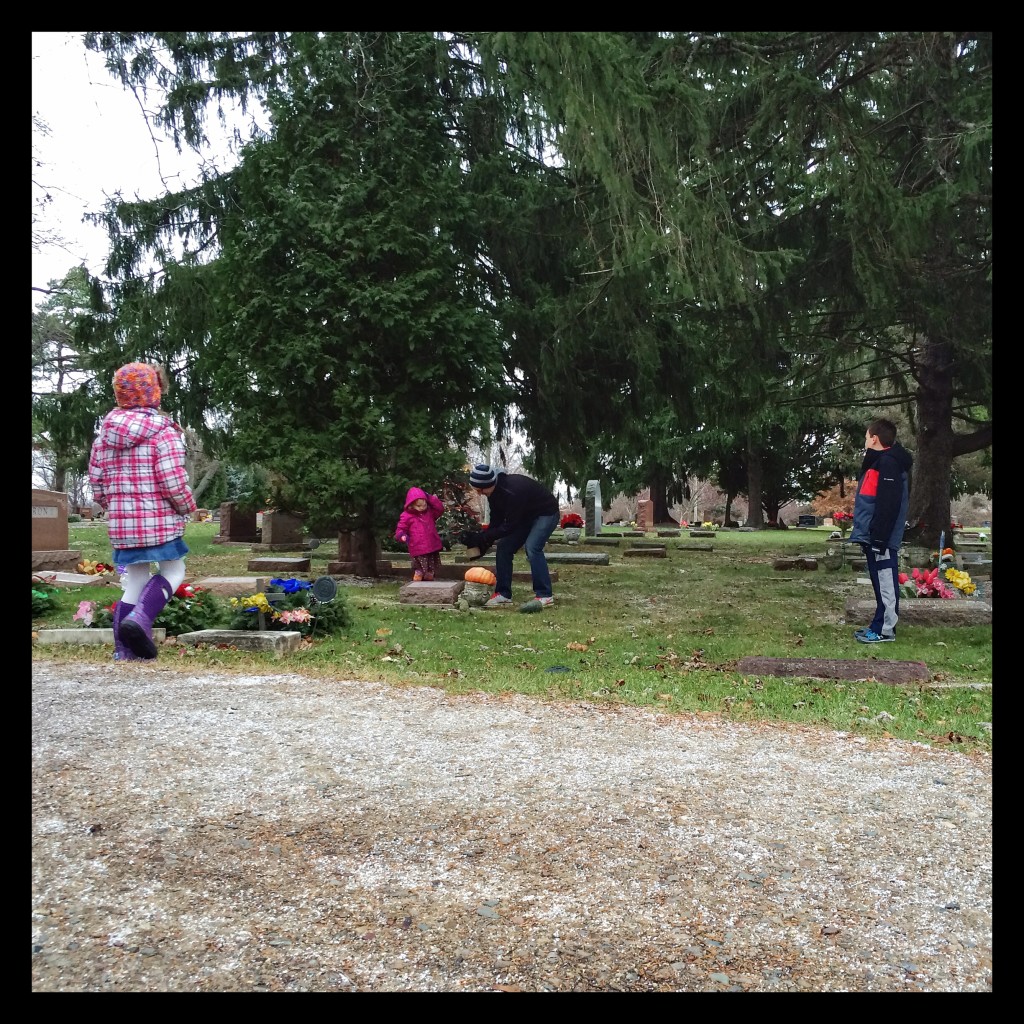 I was baking with friends and the conversation was easy and light.  My mind kept drifting to one girl, knowing that as we were talking about Thanksgiving plans, she was facing the first one without her dad.  I wanted to ask her about it, but I also didn't want to kill the mood of the room, or make her sad.
But as I remembered the first Thanksgiving without Annie, I remembered the awkward silence or the questions followed by an apology… and the truth was, I was thinking about her all the time anyway.  I was relieved when someone would bring up our grief or say her name.
So I asked my friend how she was doing and I was glad I did.  Sometimes we need others to help us carry our sadness during this time of the year, because it can be hard to be thankful when there's an empty chair at the table.  And we certainly don't want to usher in a New Year when the last one has left us broken.
Thanksgiving came just two months after we buried Annie and we were afraid to be alone, yet too exhausted to make any decisions about what to do.  Our kids were small (2 & 4), and we felt caught between trying to make things as normal as possible for them… and not really having the energy to do anything more than what was essential.  Initially, we made plans to drive 20+ hours to see Peter's family.  The week before, though, we were so depleted and knew we just didn't have the stamina to make a big road trip.  We love Peter's parents deeply and felt terrible telling them we couldn't come, but we also knew our best decision was just to be home.  They were so gracious and understanding, and I honestly don't remember what we did that year. But taking the pressure off of ourselves to quickly leap back into regular life allowed us to gain a little traction.
By the time Christmas came, I thought I would have a better handle on my grief…. but instead I felt crushed by the busyness.  My memories of that Christmas are few, but I do remember humming "the weary world rejoices" over and over in my brain. I couldn't shut it off. I felt so weary.  I wasn't sure I'd ever be able to move to the next line, "but yonder waits a new and glorious morn".  Honestly, I didn't really want to.
The bitter that year overpowered the sweet.  What I didn't realize was that each year the sweet would grow a bit as we worked out our grief and determined we would choose joy. There will always be a sadness to this time of year, but there are a few ways we've determined not to let it swallow us up.
When I especially struggle with sadness, I think of my living children.  I don't want their memories of the holidays to be consumed with grief.  I want them to remember the joy and peace of the season, sprinkled in with the reality God has made our family different, and sometimes that means we cry.  Each year we get out our Jesse Tree and Annie's stocking filled with ornaments.  We try to be honest with them when we're sad, but we make Christmas about Jesus, and the hope we have because of Him.  My kids have helped me do more than just survive the holidays.  They've forced me to participate when I just wanted to hide out until it's all over. I don't know what I would do without them.
I also give myself permission to be sad during the holidays.  My life has permanently changed, and I will never be the same person I was before Annie died.  I'm sad there aren't more presents under the tree; I'm sad when there are just five pies for Thanksgiving instead of six (#onepieperperson).  In a million different ways, I miss her and I don't want to gloss over my feelings and pretend everything is okay.  I'm not naturally a sad person— no one really wants to be, do they?— so it's hard for me to admit my sadness sometimes.  But even the happiest situations have a tinge of melancholy to them, because our family is fragmented.  It just is.  And so I am sad.
This will come as no surprise to you if you've read this blog for long, but one of the most powerful ways I've found to overcome my grief is by serving others.  You may feel lonely and isolated in your sadness, but if you open your eyes to the hurt around you, you'll notice a world of broken people.  The reality is, very few people get to have the quintessential happy Christmas.  So our family always tries to find a way to help others during the Holidays.  Sometimes it's simple, like inviting another family over for dinner or writing a quick card to a hurting friend.  We'll send shoeboxes or gifts to others in our own community and around the world.  And goodness, there are so many who need to be reminded that they matter and Jesus cares for them.  Stepping outside of my isolated grief to be a part of someone else's healing process takes the sting out of my own story.
There's the part of the Charlie Brown Christmas movie, at the very end, when Linus quotes the angel announcing the birth of Jesus in the Bible (it's Luke 2:10, actually).  In his lispy little voice, he says, "Do not be afraid.  I bring you good news of great joy that will be for all the people."  Jesus came to heal our broken hearts and give us joy. Great joy.  It's a gift to us even in our sadness.
No matter where you find yourself during these next weeks, grasp on to the truth that you are not exempt from the good news of great joy. It's a promise for you and for me, too.  The world may be swaying around you, but He promises you joy.  Search for it, and when you find even a little sliver, hold on to it with everything you have.
P.S. If you've lost someone and are overwhelmed by the immensity of your grief, I'd recommend the book When Your Family's Lost a Loved One by David and Nancy Guthrie.  They are empathetic, practical and compassionate, and address things you're probably thinking about, but don't know how to express.