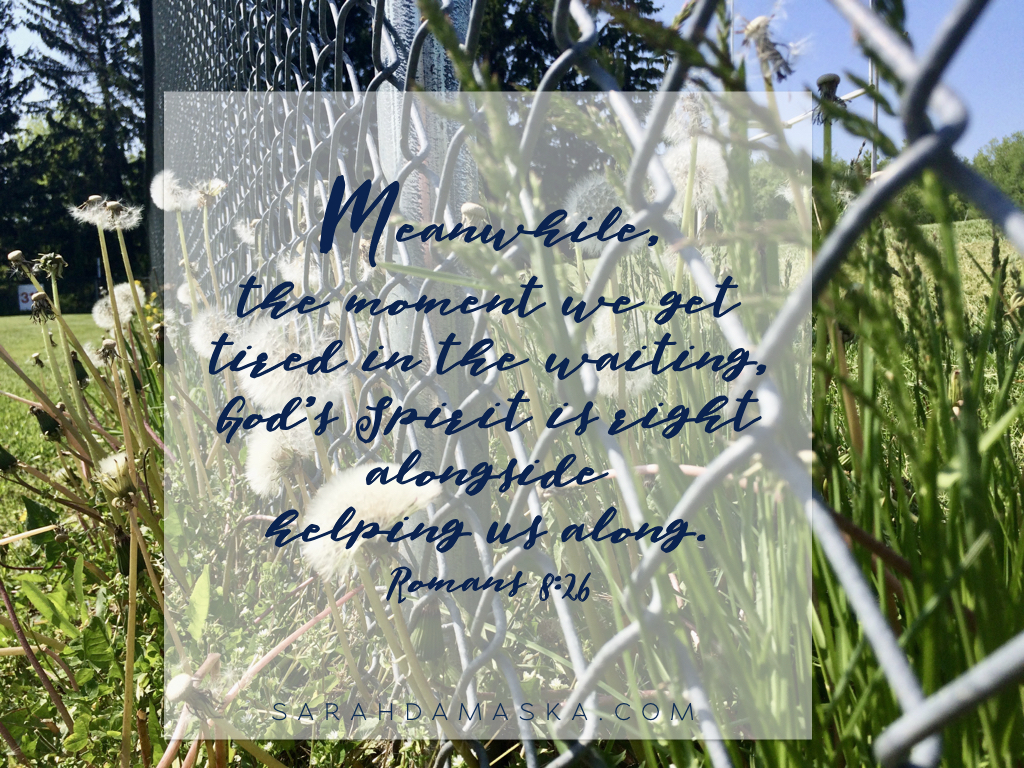 I was just a kid, sitting in church with my little flowered dress and tights. My bangs were feathered and I probably rounded it out with a pair of stick-on earrings.  The choir sang a song about "God working everything out and making it good" based on Romans 8:28 and I remember breathing a huge sigh of relief.  It was a promise I knew I could cling to— my life was going to be great.  Because I loved Jesus, I was guaranteed a carefree life.
"That's why we can be so sure that
every detail of our lives of love for God
is worked into something good."
-Romans 8:28
It's obvious from the "that's why" at the start of the verse that it was never meant to stand alone, but I blissfully missed that part.  I also failed to look around me… the friend on my left whose parents were divorced and the friend on my right who had recently found her dad dead when she walked in the house one day after school.  Nevertheless, I was confident in the verse, like a protective bubble surrounding me that I would be blessed and happy.
Therefore, you can understand why I became quickly confused as the years went by and things happened. Loss.  Confusion. Rejection. I managed to sweep it all under the rug until the day I held my baby for the last time.  My questions about God all rose to the surface, like an exploding pressure cooker.  No longer did I have the luxury of believing that life would easily work out for my good.  How exactly would I reconcile my false beliefs?
Even if you've never stepped foot in a church, the name Moses probably rings a bell.  He's the one who led the Israelites out of slavery from the Egyptians, leading them through the desert for forty years.  They were going to the Promised Land in a roundabout way… years of hardened hearts and disappointing decisions made the journey much longer.  Through it all, Moses led them, often feeling overwhelmed and unqualified.  Toward the end of the forty years of wandering, in the Desert of Zin, the accumulation of anger, exasperation and frustration came to a climax and Moses, acting in a lack of trust, disobeyed God.  As a result, Moses only saw the promised land from a distance.  He died before the Israelites actually entered it.
It sure doesn't seem like God worked out that detail of Moses' life for a greater good, does it?  I've always felt a deep sense of disappointment in the ending of Moses' life, his old, feeble eyes sweeping the landscape, knowing that he would never set foot in the place he had longed for the past forty years. If only things had been different.
Fast forward hundreds of years when Jesus was walking the Earth.  The disciples were just beginning to realize that Jesus was the Messiah and Jesus was beginning to reveal to them the suffering He would have to endure.   "Jesus took Peter and the brothers, James and John, and led them up a high mountain.  His appearance changed from the inside out, right before their eyes.  Sunlight poured from his face.  His clothes were filled with light. Then they realized that Moses and Elijah were also there in deep conversation with him." (Matthew 17:3)
The fancy, theological term to what happened is Transfiguration, meaning Jesus' appearance changed. It's a mysterious, amazing story, but today it's not where I'm focused.  Because did you see it?  Moses was there!  On a mountain in the middle of the Promised Land.  He may have died without touching the soil, but the first time he sets foot in it not only is he is with Jesus but also in deep conversation with Elijah!  Never in a million years could he have imagined it.  God— not cornered by the constraints of time or a finite understanding of life—  knew that Moses would most definitely stand there with Jesus many years later. A lifetime of feeling unqualified and  reliant upon God, a lack of trust that God would provide… and still, God untangled the messiness and redeemed Moses' life hundreds of years later.
My lack of understanding of a guaranteed easy life could have been remedied if I would have zoomed out a bit from Romans 8:28. There's a deeper and wider meaning:
"Meanwhile, the moment we get tired in the waiting,
God's Spirit is right alongside helping us along," Paul writes.
"If we don't know how or what to pray, it doesn't matter.  
He does our praying in and for us, making prayer out of our wordless sighs, our aching groans.  
He knows us far better than we know ourselves, knows our pregnant condition,
and keeps us present before God.  
That's why we can be so sure that every detail of our lives of love for God is worked into something good.  God knew what He was doing from the very beginning.  
He decided from the outset to shape the lives of those who love Him
along the same lines as the life of His Son (Jesus).  
The Son stands first in the line of humanity He restored.  
We see the original and intended shape of our lives there in Him.  
After God made that decision of what His children should be like,
He followed it up by calling people by name.  
After He called them by name, He set them on a solid basis with Himself.  
And then, after getting them established, He stayed with them to the end,
gloriously completing what He had begun."
Romans 8:26-30
And there it is, "God knew what he was doing from the very beginning…"
He knew what He was doing in Moses' life… and He knows what He's doing in your life.  Those things you're waiting for?  The circumstances in your life that don't seem to lead to anything but failure and sorrow?  Every detail will be worked into something good.  Maybe you'll see it in a few minutes or days.  Maybe in a few years or at the end of your life.  Or maybe it will be redeemed generations from now, after you've left this earth.  Our finite minds can't even conceive of how God shapes our lives and how He will work out each little detail.  We don't have to work it out… we simply need to believe it and watch it happen.
So may you, with eyes of hope, still believe that God is working out the details of your life into something good. Trust Him to do what He says He will do.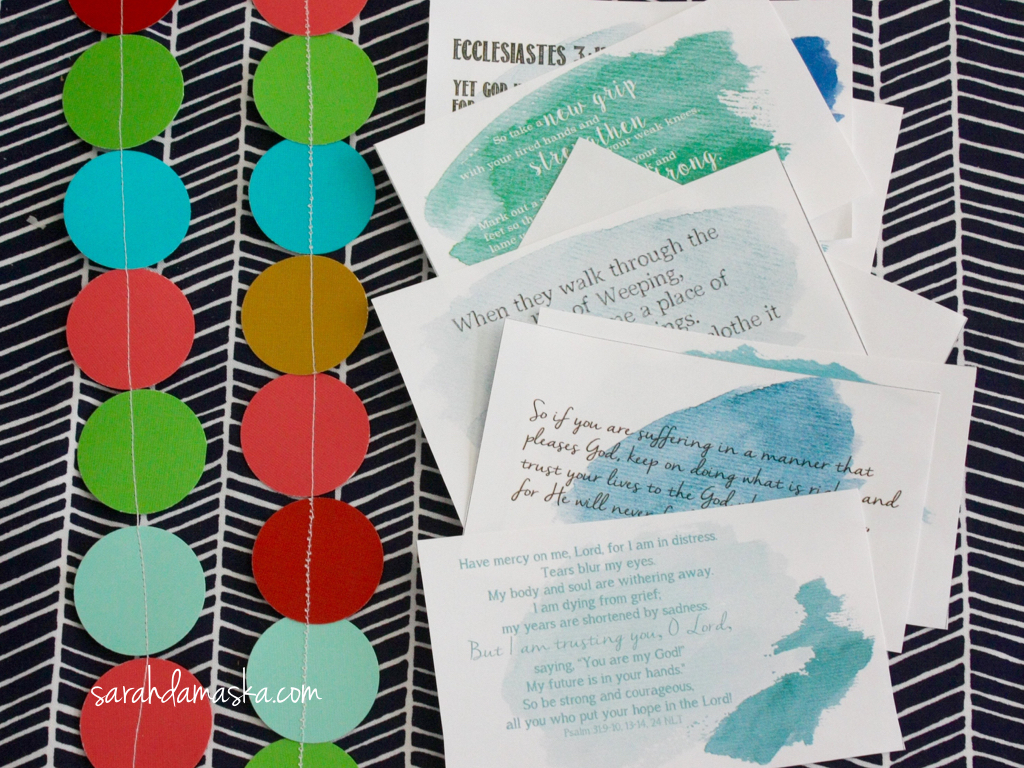 Hello.
I'm Sarah and I write about the hope & joy that can come even in the midst of deep grief and sorrow.  It's a privilege to have you along for the journey.  Would you like to receive encouragement from me to your inbox?  Click here to join me.
{I read through a lot of Scripture as I wrote this post.  If you would like more  references, contact me by using the form at the top of the page.  Also, thanks to Lisa Harper, who mentioned this concept in her recent interview with Annie F. Downs, and got my brain rolling!}